Who doesn't want to impress friends and family with the best Thanksgiving Dinner? Here are two great sides that are sure to please. Even if you make mashed potatoes every year, these will be the best yet. (Spoiler, you'll need a lot of butter.) And these Brussels sprouts will win over even your die hard haters over with their sweet roasty flavor and the addition of bacon, which makes everything better!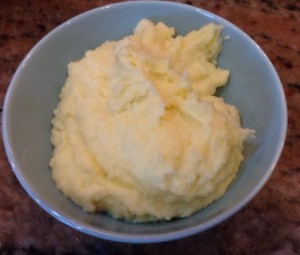 There are many ways to make mashed potatoes, but only a few ways to make the best mashed potatoes. If you are afraid of butter and cream, you may as well stop reading here, or maybe make some other kind of potato, like oven roasted potatoes. If you're committed to making memorable mashed potatoes, here are some rules to follow that will ensure your success:
Start with the right potatoes; I prefer russets, they have a high starch content and will yield a fluffy mashed potato. Boil them with their skins on, this will keep the potato from getting watery. For ten to twelve people make five pounds of potatoes. You can use Yukon gold, but for those are better for (s)mashed, skin on potatoes.
When the potatoes are cooked, if you're going to put them through a

ricer

(which will give you the smoothest, fluffiest mashed potatoes ever) you don't need to remove the skin, the ricer will do that for you. If you have a

food mill

that will work as well.
If you're going to mash them with a masher, after draining the hot potatoes, make a few cuts in the skin to them to let the steam escape, and cool enough to handle them, then remove the skin; it should come off easily.
For each pound of potatoes use one stick of real, unsalted butter, cut into small pieces, and 1/4 cup of cream heated gently (do not boil)
DO NOT OVER MIX, over mixing potatoes makes them gummy. Gently fold in the butter then add the cream slowly. You may not need all the cream, if you don't use it all, save it because you may need to add it before you serve the potatoes.  Season with salt and pepper, but remember go easy on the seasoning because adding gravy will add salt and seasoning.
To hold mashed potatoes:

Put them in your slow cooker on low, where they can rest for up to four hours, you may need to add a little more cream before you serve them
Cover well and put them over a simmering double boiler, this will hold them for one hour
For less than thirty minutes cover tightly and they should stay hot and fluffy
The best thing about these Brussels sprouts is that you make them on the stove, so no need to take up precious oven space. This is one of those no recipe needed recipes, so here is what I did to make these meltingly delicious pan roasted Brussels sprouts:
24 ounces of Brussels sprouts (2 of those paper cups filled way up and held with plastic (this will serve 4-6 people)
8 ounces of thick sliced bacon cut into strips
3-4 shallots
Preheat oven to 325°F
Using a cast iron, or other heavy, oven-proof  12″ skillet, on low heat, cook bacon stirring as it cooks to separate the pieces. While the bacon cooks put the shallots through the food processor using the slicer blade, and slice thin. Set aside. Cut the bottom ends off the Brussels sprouts, then put those through the processor. It will seem like a lot, but when you're done they will have diminished in volume as much as they have increased in flavor! When the bacon is staring to brown, add the shallots to the pan. Continue to cook until shallots start to soften, about five minutes. Add the Brussels sprouts to the pan (the pan will be very, very full) and using a tongs, carefully mix and turn the mixture to coat the sprouts in the fat, and allow all ingredients to combine. Continue cooking on low heat for ten minutes, stirring and mixing often.) If you are as messy as I am, you will spill shreds of green all over your stove top.) Cover and cook on low heat for 30 minutes, mixing the ingredients every ten minutes.
You can make these ahead of time, and heat when ready to serve.
Wishing you a happy, healthy and delicious Thanksgiving!
The Secret To The Best Mashed Potatoes and Brussel Sprouts EVER
was last modified:
November 23rd, 2015
by