Got a green thumb and ready to get your garden blooming and growing this season! You came to the right place and we have all the greatest tools, kits and devices to kick start your fruits, veggies and flowers! Emphasizing efficiency is easy and fun with these great necessities. Everything for your home and herb garden is made possible here with these items and we love how they are stylish and chic at the same time. Home gardening is a great past time for the summer and is a great way to get healthy and active outdoors. Don't worry if you don't have the yard space at home because in home gardening is popularizing with these awesome tools. Shop these wonderful products here for everything you need for your home & herb garden!
Emphasizing comfort and efficiency, each finely crafted tool is engineered with unique features that simplify everyday gardening jobs. All tools, except for the stainless-steel secateur, combine beech wood handles with brass ferrules and polished steel heads.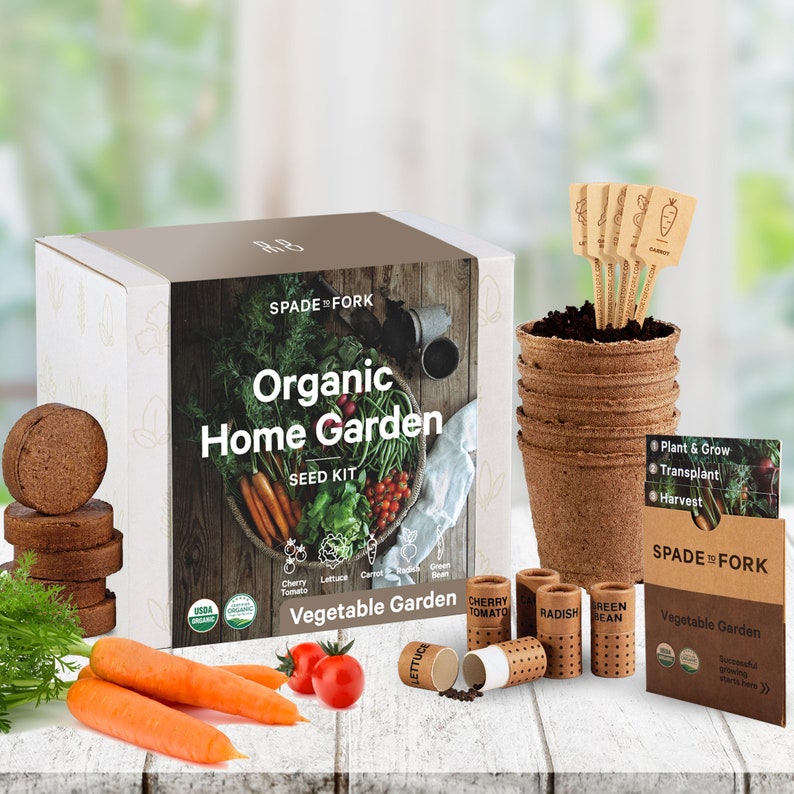 Every home looks better with fresh vegetables and plants on the countertops. This decorative kit with heirloom seeds is a unique way to add food to your planters and spice up your mealtime with a little gourmet flavor from your own home gardens!
Use this basket to keep garden accessories well organized and easily accessible. Handwoven of thick rattan, it includes a durable canvas sleeve that provides pockets and hand ties for additional storage. The basket can also be used to bundle a gift set!
This antique-inspired gardening basket makes a reliable companion at harvest time. Sturdy iron wire holds and secures fresh-picked fruit, vegetables and flowers while allowing dirt and debris to fall through. The handle and sides are made of mango wood with a protective antiqued grey-wash finish.
This set of stainless steel tools are very solid and of great quality with four hand tools that are perfect for all your garden needs. Planting flowers and vegetables will be effortless and fun with this wonderful set.
For centuries, cooks have harvested fresh herbs from kitchen gardens and hung them to dry, preserving them to season dishes all year long. This circular hanging rack continues the tradition, providing ample space to dry a garden's bounty of fresh herbs.
This is the hose that every gardener dreams of using: extremely lightweight, soft, strong and reliably flexible in all weather conditions. The ultraslim hose is made from pure polyurethane (not PVC), so it won't kink or crack. It's also 100% free from toxins such as lead and phthalates, which are commonly found in conventional garden hoses.
Haws watering cans have been a fixture in English gardens since 1886, the year that Londoner John Haws patented his unique design for a "watering pot" with perfect balance. This is the Haws indoor watering can, crafted of gleaming copper and ideal for tending plants in the house, on the patio or out in the greenhouse.
When you need a garden glove that offers both dexterity and protection, these soft pigskin gloves strike the ideal balance. They're made by Womanswork, a three-generation family business known for its high-performance work gloves designed specifically to fit women.
This smart garden takes care of your herbs automatically by monitoring their water, light and nutrients at all times. The NASA-inspired Smart Soil creates an optimal environment for your plants, with no pesticides, fungicides or hormones. Just place the capsules, add water and plug in the machine.
Cultivate a fragrant herb garden and savor fresh herbs for cooking all summer long. From Oregon, this kit gives you seeds for six culinary herbs along with soil and pots for starting them. Later you can transfer the seedlings to the backyard garden or create a lush container or windowsill herb garden that's convenient for clipping.
Tools & Sets for In-Home & Outdoor Gardening!
was last modified:
May 17th, 2021
by