If you intend on wearing a string bikini this weekend, you may want to hold off from making this dish until later on in the week. But since "Real Women EAT" is our motto this week, we are going to throw caution to the wind and make it anyway. (Especially because it sounds absolutely amazing, and that's why beach coverups were invented!)
Another fabulous dish from Nancy Lowell of Chef's Last Diet…
I remember the first time I ever heard of shrimp and grits. I was in Atlanta, it was April 1999. I was working for Whole Foods Market and I was there for three weeks helping to open the Briarcliff store. We worked hard all day preparing the store and the department for the upcoming grand opening, and then we'd head out for dinner. Almost every place we went to offered shrimp and grits.
The team I was with included three other people, one of whom, Michael, had lived in Atlanta and when I asked him to describe the dish to me, I knew I'd love it! I already loved grits, and shrimp, and though everyone seems to have their own variation, they all sounded delicious. Who wouldn't love a creamy, cheesy, soft bed for some crisp shrimp cooked with bacon, peppers and whatever else might have caught the chef's fancy.
I don't know how many times I ordered it, probably not too often as I was trying to economize and stay within my allotted meal allowance, but I did splurge a few times. Some chefs use tasso ham, some bacon, and others use that southern staple, country ham, which I confess I am not crazy about. It is too dry, and too salty (I'm sorry to anyone I'm offending, maybe I just haven't had really great country ham…). It is an easy dish to prepare, and I made mine without any pork (my pescetarian was home) but I can see how that added smokiness would bring a depth that mine didn't have. My preference would be a good quality, thick sliced bacon, I particularly like the 365 brand (from Whole Foods Market) thick sliced applewood smoked bacon, it is the best packaged bacon I've ever had (and no one has asked or paid me to say that).
When you're making something with very few ingredients (actually whenever you're taking the time to make anything) the better your ingredients, the better your finished product will be.  Stone ground grits are far superior to instant grits. They have a real corn flavor, and a less gluey texture, once you try them you will need no further convincing. I've written here before about making sure you buy dry scallops,  and the same goes for shrimp. Unless you live near a gulf where shrimp are harvested you are buying previously frozen shrimp, so you might as well buy good quality frozen. It's worth seeking out shrimp that doesn't have any STP (a sodium triphosphate additive) and for this dish you are throwing your money away if you used previously cooked shrimp.
Shrimp and Grits

Print recipe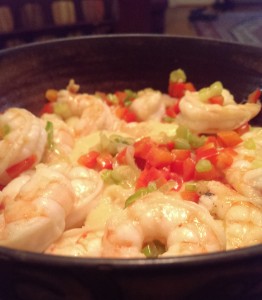 Ingredients
4 cups chicken stock
1 cup stone ground grits
1/2 stick butter (unsalted)
1 cup aged sharp cheddar (grated)
1 cup jack cheese (grated)
1lb large shrimp (peeled and deveined)
4 thick slices smoked bacon (chopped)
1/2 red pepper (diced)
3 scallions (sliced thin on the bias)
1 clove garlic (minced2)
2 tablespoons chopped parsley
1 Medium lemon (juiced)
Directions
Step 1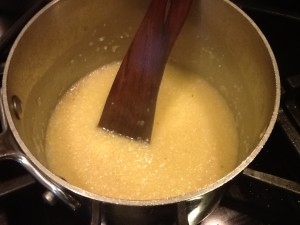 Bring stock to a simmer, and slowly add grits to hot stock, stirring as you go
Reduce heat to simmer, and cook for 20-25 minutes, stirring occasionally
Step 2
When grits have finished cooking they will be creamy and all the stock will have been absorbed
Remove from the heat and stir in the butter and cheese
Cover and set aside
Step 3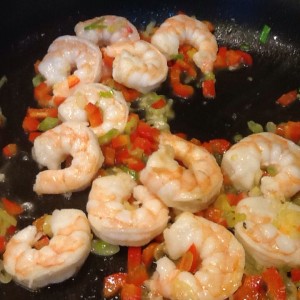 While grits are cooking, fry bacon over medium high heat in a large pan, when brown and crisp, remove and drain on paper towels, leave bacon fat in pan
Add peppers and garlic to pan and saute until fragrant
Add shrimp and cook until pink, add scallions, bacon and lemon juice to pan, stir well
Step 4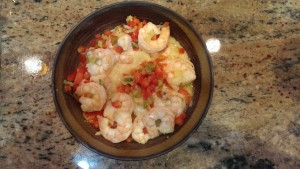 Put grits into serving bowl, and top with shrimp mixture, top with chopped parsley and serve
Shrimp & Grits
was last modified:
July 25th, 2014
by