Every Jewish person I know has a strong opinion about what makes a good matzo ball, and a story about the worst ones they ever had. I love, love, love matzo balls, and it's time to make them! (Quite honestly, I make them other times of year for no more compelling reason than I want some.) I'm sure there are plenty of non-Jews reading this, and thinking they have some strong feelings about Matzo balls too, and I'm sure you do, but we're the pros, the people who've been eating them our entire lives. I was born in March, and that year Passover was April 6th so I probably missed that first Seder, but I'm sure someone was spooning MBs into my mouth by the following year.
If you don't know, MBs (how many times can you type out matzo balls?) come in two designations: floaters and sinkers.  If I recall correctly, my grandmother's were sinkers, though not the golf ball tough version I've heard about. If you go to traditional Jewish Delis from The Carnegie Deli or the 2nd Avenue Deli in Manhattan, to the Famous Fourth Street Deli here in Philadelphia you will be served a gigantic MB. I have no idea how they manage to make them so large (I'm talking tennis ball-size) have them cooked all the way through, but not too dense or chewy. I have tried, and failed enough times that I've given up. I make mine about 3″ in diameter.  At the Carnegie Deli, they bring you a bowl with two giant matzo balls in it, and a separate pot of chicken soup that the waiter dumps into your bowl once he has set it down on the table. I imagine it saves on the number of soup-related accidents!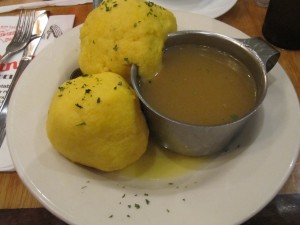 My grandmother made perfectly good MBs  but my mom's were better, and I have spent years trying to perfect mine. I never got my grandma's recipe, but I did get some tips from my mom. The first year I made them I separated the eggs and whipped the whites, then folded them into the mix, and though I wouldn't have thought it possible, they were too fluffy, they all but disintegrated in the simmering water. According to my mom, you need to add a bit of grated onion (which I do) use seltzer instead of water (I do that too) and use butter, which defies kosher law, but we're not particularly strict about these things in my family. I used to use butter, but now I use half butter and half schmaltz, otherwise known as rendered chicken fat, in part because I like the flavor it gives the MBs.
I prefer a MB that has a bit of chew, and density, but isn't too heavy. This is the kind of thing you can make a few days in advance—I am making them today for our Seder. When you form them, the best technique I've found is to keep a bowl of cool water nearby and dip your hands before scooping each ball (sorry) and the mixture won't stick to your fingers. As with most things, cooked in water, you want the water at a simmer, as boiling water will make the MBs tougher.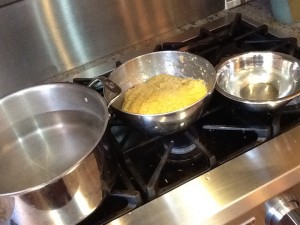 How can we talk about matzoh balls, without mentioning the chicken soup? The soup I make for this is not the same as the fully loaded chicken soup I've shared here before. This is a soup meant to be served as a broth, with nothing but a MB in it. I use a whole chicken, and plenty of seasoning and aromatics which I then strain out. I remove the skin from the chicken, without going crazy—it's just too much trouble to take the skin off the wings. Taking off the skin leaves less fat to remove after you chill the soup, so a little bit of skin won't make a big difference. I toss in a few celery stalks, a cut up Spanish onion with the skin on, to add color, and four unpeeled carrots, for seasoning I add two bay leaves, and a generous teaspoon each of dill and sage (dried). I simmer this for an hour, then remove the chicken (you can use that for chicken salad) and strain the liquid.
Whether or not you're Jewish, whether or not you're having or attending a Seder, matzo ball soup is great any time of year. Food Network recently showed a restaurant that serves bacon wrapped matzo balls!  Have you ever made matzo ball soup?  Is there a special trick you have that makes yours the best? I'd love to hear what your not so secret ingredients are!
Matzo Balls

Print recipe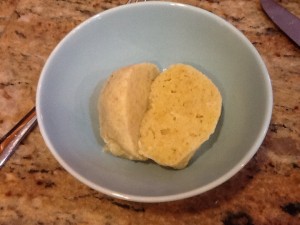 | | |
| --- | --- |
| Serves | 8-10 |
| Prep time | 30 minutes |
| Cook time | 30 minutes |
| Total time | 1 hour |
Ingredients
1 cup matzo meal
4 large eggs
2 tablespoons butter (melted)
2 tablespoons schmaltz (rendered chicken fat melted)
1/4 cup seltzer
1 tablespoon grated onion
1 teaspoon kosher salt
black pepper (a few grinds of fresh pepper)
Directions
Step 1
Separate two eggs, putting the whites in one bowl,
Beat egg whites until stiff
Add the two yolks, plus the rest of the eggs to another b
owl
Beat eggs, and add seltzer, butter, schmaltz and seasoning, and mix well
Step 2
Add matzoh meal and mix
well
Gently fold egg whites into matzoh mixture
Cover and refrigerate one hour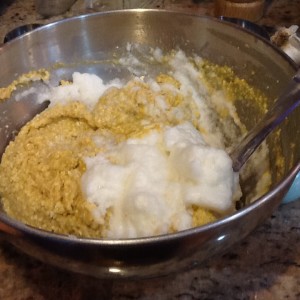 Step 3
Bring a large soup pot filled 2/3 with salted water to a boil
Step 4
Set up a station with a bowl of cool water, the matzo mix and the soup pot,
Moisten hands before forming each ball
Matzo balls will double in size, so make them half as large as you want them
Try to handle them as little as possible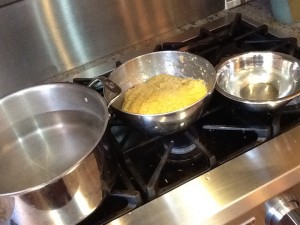 Step 5
After all balls have been formed, lower heat to let the water stay at a simmer, and cover th pot and let cook for thirty minutes.
Step 6
To store matzoh balls, remove them from the pot, and put into a container where they aren't too tight, and cover with cooled cooking liquid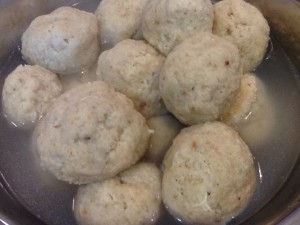 Step 7
To serve, remove from cooking water, and heat the matzo balls in the soup you will be serving
Step 8
Garnish with fresh dill, if desired
Not My Bubbie's Matzoh Balls
was last modified:
April 11th, 2014
by