Berry Mascarpone Cheesecakes For Passover (or anytime)
Celebrating any religious holiday in a mixed-religion home is often a delicate matter depending on how devout and observant each partner is or the decisions made on which religion the children shall be raised in. Notwithstanding the discussions over Thanksgiving, Halloween, 4th of July or even Valentine's Day for this mixed-nationality couple, there is something so much more personal and emotional when it comes to religion. My husband and I have perfected our own special dance each time a holiday approaches and although my husband has always been a doubting Thomas where religion is concerned, he happily watched as I raised our sons in the Jewish faith and he thoroughly enjoyed each and every holiday celebration. Standing back from the actual rituals, observing more than participating, he always reveled in the pervading spirit, joy and affection that seemed to envelope our small family as the candles were lit, the calm and warmth that seemed to radiate throughout our home as the boys, children then adolescents, dropped all notions of sibling rivalry and teen idiosyncrasies and joined us around the dinner table.
Yet religious holiday rituals can become near controversial when the festivities demand a change of diet or eating habits, no matter how understanding the spouse is. My husband has long taken pleasure in the luxurious calm oasis of Friday night Shabbat meals, the excitement and festivities of Hanukkah, Purim, Rosh Hashanah, the Jewish New Year. He basks in the glow of candlelight, slips on his kippah and stands respectfully as we say the blessings, proudly watching his sons participate. He has eaten sizzling, savory latkes smothered under homemade applesauce, brioche-like Challahs with Chicken Soup & Matzoh Balls, Hamentaschen and Rugelach, dense, sweet Apple Noodle Kugel and peppery Potato Kugel, and he loves it all. Each traditional holiday culinary addition to our dinner table is welcomed, savored, enjoyed by both my husband and my sons. Yet every year as Passover approaches, he braces himself for the inevitable: no more bread for 8 days and nights.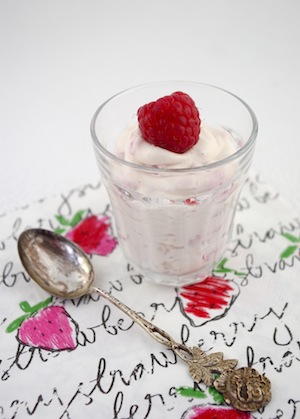 Passover means clearing out the house of bread, cake, cookies and all the good stuff as they know it; no rice, no pasta, no flour, no yeast or leavening agent of any kind. No run downstairs to the corner boulangerie for the lunchtime baguette or that once-a-week homemade pizza night. There have been years when I kept a strict house when he has absolutely revolted around the 6th or 7th night, exhorting that there is no way he can go the entire holiday, those seemingly endless 8 days, 8 lunches, 8 dinners, without bread! Yes, Passover is the most difficult of the Jewish holidays to "sell" to a non-Jewish spouse. Rounding off that typical French meal with cheese is just not the same when it is eaten on matzoh!
I was raised in an observant home and Passover dessert or snacktime meant lots of matzoh smeared with jelly, cans of coconut macaroons and packaged kosher-for-Passover pound cake. Although I loved all of it – I am a happy eater – none of this would be welcome in my home. Yes, I have tried it, shopping at our local Kosher shops and bringing home a cartful of pre-packaged Passover treats. But my men are used to homebaked cakes and cookies and turn down the normally dry and flavorless store-bought snacks. Well, I won't often complain about my family preferring what I bake myself, so I vowed to change the holiday traditions and find delicious, Passover-friendly snacks and desserts to make the week slide down smoothly and pleasantly. And just because it is Passover there is no reason to settle for anything less than a spectacular, gorgeous, delicious dessert!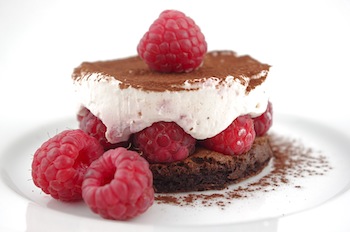 I have created individual Berry Mascarpone Cheesecakes on a Chocolate Sponge base, a luscious, flavorful dessert for Passover. Take advantage of the season and use your favorite berries as they appear on the market: strawberries, raspberries, blueberries, blackberries or any combination you like. Serve the Mascarpone Cream in glasses without the cake base, topped with fresh whole berries and accompanied by a plate of your favorite cookies. You can also use this scrumptious flourless chocolate cake filled and rolled up jellyroll style for any holiday meal; spread the cake with this Berry Mascarpone Cream or your favorite filling or simply with jelly or jam before rolling into a log, then serve frosted or piled with whipped cream or a tumble of more fruit. Passover friendly, gluten free, absolutely delicious this is the dessert for any occasion. So simple to make and diverse in all of the variations possible, this is a scrumptious treat that will have your family coming back for more.
INDIVIDUAL BERRY MASCARPONE CHEESECAKES
CHOCOLATE SPONGE CAKE
Adapted from Rose Levy Beranbaum's The Cake Bible

For the Berry Mascarpone Cream Dessert you can replace the Chocolate Sponge Cake with your favorite chocolate or vanilla sheet cake or genoise or even a pre-baked sweet pastry crust or cookie, but personally I prefer a softer cake bottom than a crunchy pie crust or cookie as it is easier to eat and creates a uniform, elegant, tender and creamy dessert experience. And of course, I love the touch of chocolate this light, moist cake brings to the berry cream.

1/3 cup (30 g) unsifted, unsweetened cocoa powder
¼ liquid cup (60 ml) boiling water
1 tsp vanilla
2 Tbs (30 g) unsalted butter, softened and cubed
2/3 cup (130 g) sugar
6 large eggs, separated
Few grains of salt and few drops of lemon juice, optional

Preheat the oven to 350°F (180°C). Grease a 17 x 12″ (45 x 30 cm) jellyroll pan and dust with either matzoh cake flour (for Passover) or flour, shaking out the excess. If using the chocolate sponge cake to make a jellyroll just line the greased pan with parchment or non-stick oven paper and grease again.

In a small bowl, stir together the cocoa powder with the boiling water until the cocoa is completely dissolved and smooth. Stir in the butter until it is melted and then stir in the vanilla. Set aside to cool.

In a large mixing bowl, combine the 6 egg yolks with ½ cup (100 g) of the sugar and beat, using an electric mixer on high speed, for 5 minutes until light and fluffy. Add the cocoa mixture and beat just until incorporated and smooth, scraping down the sides as necessary.

In a separate large, very clean bowl (preferably plastic or metal), beat the egg whites with a few grains of salt and a drop or two of lemon juice (these will help stabilize the whites, replacing cream of tartar which is not permitted on Passover) until soft peaks begin to form. Gradually, as you continue beating, add the remaining sugar and beat until stiff peaks hold. With a large spoon or spatula, fold about 1/3 of the beaten whites into the chocolate mixture to lighten it before folding in the rest of the whites in 2 additions, folding in gently but firmly until completely blended in. Spread the batter into the prepared pan making sure it is even and reaches all the way into the corners.

Bake in the preheated oven for 18 minutes. The cake will have puffed, faded in color and lost its shine and the surface will spring back when lightly touched. If in doubt, leave in the oven for an extra minute or two. Remove from the oven and allow to cool in the pan set on a cooling rack. (If making a jellyroll, slide the parchment off of the pan onto your work surface to cool.) The cake must be completely cooled before cutting out circles and creating the cream cake.

Once the cake is cooled, carefully slide a wide, flat spatula under the cake to loosen it from the pan. Using ring molds, cut out circles of Chocolate Sponge Cake – about 5 medium or 6 small. Place the rings with the chocolate bases still snuggled inside on a baking sheet or tray lined with parchment paper. There will be about half of the cake left untouched after making the individual desserts and cut into squares, the chocolate sponge is perfect with a cup of coffee or a glass of milk!

Make the Berry Mascarpone Cream:

BERRY MASCARPONE CREAM

1 cup (250 g) mascarpone
¼ cup (55 g) superfine sugar
1 tsp vanilla
¼ cup (60 ml) fresh heavy or double whipping cream (not ultra-pasteurized, long life cream)
1 cup fresh berries (I used strawberries and raspberries)
Chocolate Cloud Cake (recipe follows) or other cake base * (recipe follows)
1 – 2 cups fresh whole berries for decorating

Chill a glass bowl and a set of beaters in the refrigerator for at least 15 minutes before beating the heavy cream. Put the heavy cream in the chilled bowl and, using the chilled beaters, whip the cream until it holds soft peaks. Continue beating as you gradually add 1 tablespoon of the sugar. Beat until the cream is very thick and dense and holds stiff peaks.

In a separate bowl, beat the mascarpone with the remaining sugar and vanilla just until light and creamy. Using a spatula, fold in the whipped cream until blended. Do not over-mix.

Crush the one cup of berries in a food processor, crushed not puréed. Gently fold them into the mascarpone mixture. If the cream mixture is firm enough, it can be used to fill the molds right away. If not, cover the bowl with plastic wrap and refrigerate while you prepare the cake bases.


Assemble the Berry Mascarpone Cheesecakes:

Rinse the berries quickly under cold water, shake to drain, then trim the top off of the remaining strawberries and slice each in half lengthwise. Line each ring mold all around with either strawberry halves, cut side out and large end down, point upwards, or raspberries. If you like, leave a tiny space between the berries for the cream to peep through.


Carefully place a heaping spoonful of the Berry Mascarpone Cream in the center of the rings, inside the berries and, using the back of the spoon, press gently to fill, being careful that the berries stay in their places while the cream fills up all gaps. Flatten the top of the cream, adding more until the molds are filled to the top, smoothing. Once all the rings are filled, place a large piece of plastic wrap over the whole thing and refrigerate overnight.


When ready to serve, slide a wide, flat spatula under one cake, lift it and place in the center of a dessert plate. Carefully slide the mold straight up and off. If the mold doesn't lift off easily, slide a long, sharp, thin knife blade around the dessert to loosen it from the mold before sliding off the ring. Dust the top of each dessert with unsweetened cocoa powder. Serve immediately with extra berries. You can also crush the remaining berries with a little sugar and serve as a coulis.

If you eat these Individual Berry Mascarpone Cheesecakes the same day they are made they are mighty delicious and meltingly good, very creamy and smooth, but after a day – and even 2 days – in the refrigerator, the cream sets and becomes denser, more like a cheesecake than a cream and the Chocolate Sponge becomes infused with berry flavor. Gorgeous!
Best Passover Dessert This Year
was last modified:
April 7th, 2014
by