Chef Nancy Lowell writes about crabmeat and shares her recipe for crab cakes, an "iconic" summer dish.
It's summer and crab cakes are an iconic summer dish, so off I went to buy some crabmeat and share the recipe with you. The first store I went to had crab in a can in the fish case, and it was on sale for $16.99; a steal! I asked the man behind the counter if I could see the can "What are you looking for?" he asked, "TSP" (trisodium phosphate) he looked at the can and indeed TSP was there. "No thanks." (I've written about TSP before,  and if you're not checking to see if it's in your shellfish, you should start.) I knew the crabmeat at Whole Foods Market wouldn't have TSP, so off I went, a bit grumpy about having to go to another store.
Whole Foods did indeed have TSP-free crabmeat, but I wasn't prepared for the price tag of $22 for eight ounces. I'll do the simple math for you, that's $44 per pound. That was for jumbo lump meat, the most expensive, but the least expensive was only a few dollars less, and so I went for the good stuff. Now I had eight ounces of crab meat for two of us, and I didn't want to add a lot of fillers and lose the delicate taste of the crab. There's not much worse than a crab cake so laden with breadcrumbs and Old Bay seasoning you can barely tell there's actual crab in there. I was also pretty clear these were the only crab cakes I'd be making, maybe ever.
Inspired by one of my favorite dips I decided to add artichoke hearts to add some volume and complement the crab's sweetness. A bit of chopped red pepper, some mayo and just a bit of breadcrumbs—or in this case matzo meal to hold it all together. A trick I learned in culinary school for finding any stray bits of shell is to spread the crabmeat on a sheet pan and put it under the broiler for twenty seconds. Any shell will turn bright pink, and be easy to remove without cooking the crab. When you make these handle them gently, and don't press down on the crab cakes when you cook them. I pan fried them, but you could bake them though they won't get crispy on the outside.
These were so good I felt justified with the expense. We didn't put any type of sauce or dressing on them, but you could make a quick one of half mayonnaise and half Dijon mustard with some chopped up capers and fresh dill. Are crab cakes something you'd make at home, or do you save them for when you're at a restaurant?
Crab Cakes

Print recipe
| | |
| --- | --- |
| Serves | 2 |
| Prep time | 20 minutes |
| Cook time | 8 minutes |
| Total time | 28 minutes |
| Meal type | Appetizer |
Ingredients
8oz jumbo lump crabmeat
2 artichoke hearts chopped (I use canned (non marinated) drained well)
2 tablespoons myonnaise
1/4 red bell pepper (choped fine 1/4)
2 scallions (sliced thin, 2)
2 teaspoons fresh dill (chopped)
1 Large egg
1/4 cup breadcrumbs (or matzo meal)
oil for frying
Note
if you want these for an appetizer you could make 16 small cakes, and fry those for 2-3 minutes per side
For a party you could pan fry them for 2  minutes per side, then chill them until ready to use, then heat in a 375F oven for ten minutes
To make these in the oven preheat oven to 375F and bake for 12 minutes, then turn and bake another 10-15 minutes
Directions
Step 1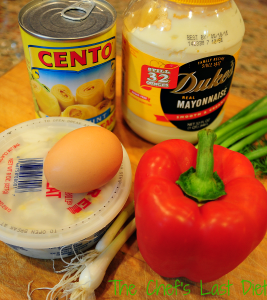 Pick through crab to look for bits of shell, or spread crabmeat on a sheet pan and put under the broiler for 20 seconds, shell will turn bright pink
Step 2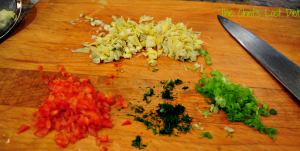 Chop vegetables and dill
Beat egg
Step 3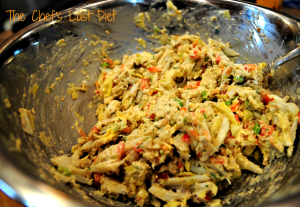 Add all ingredients together and mix gently with your hands
Step 4
Shape into two large or four medium sized cakes about 1 1/2 to 2″ thick
Heat a shallow layer of safflower or other neutral oil in a wide pan
Add cakes and cook on medium high heat for four minutes
Turn cakes gently using a spatula and another helper utensil like a fork
Lower heat to medium and cook another four minutes
Drain on paper towels
Serve immediately
A Crab Cakes Story
was last modified:
July 25th, 2015
by