Are marriages among boomers shakier than ever? It would appear that way. Research shows that the divorce rate among adults aged 50 and older doubled between 1990 and 2010. Yet for a lot of people, marriage really does get better — despite the woeful stats. And we have proof. Many of our bloggers report being wildly happy even after many years of togetherness. Therefore, if you are in search of a little inspiration, check out the signs these marriages are better now than during the honeymoon.
1. You no longer feel the need to look put-together all the time.
"I no longer wake up earlier than him to wash my face, fix my hair and put on mascara — then get back into bed so he thinks I wake up looking like that naturally. We both understand that, after 23 years of marriage, that we are imperfect, and our friendship is the real key to our attraction to one another," said Melissa Shultz of Sisterhood of Mothers.
2. You are less frantic, about everything.
"On the honeymoon we laughed louder but a little nervously, and loved the same way. Now we are relaxed, winking at each other and laughing deeply. When we're not really funny, we just let our silence declare the humor stumble and try to improve next time. But we laugh when it matters, and it goes all the way to our toes," said Donna Highfill of DameNation.
3. Your sex life is better.
"Sex is better: At that time, we were focused on not getting pregnant, then wanting to get pregnant, all while getting used to each other's wants and desires. Now, that is behind us and we can just relax and let it happen without having a goal," said Barbara Hannah Grufferman of The Best of Everything After 50.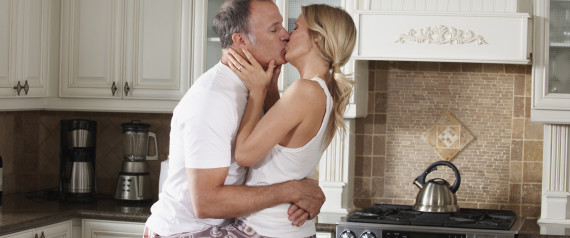 4. Your connection is stronger.
"Twenty-five years ago when we got married we were still, in many ways, strangers. Now we are a pair, a team, our relationship having grown stronger through the years as we've gone through the wonderful and awful things life has brought us. For some couples those things serve to push them apart, but we have been fortunate that they have brought us closer together — even as we struggled through some very difficult moments. It's passion and visions for the future that got us started — it's shared memories and commitment to each other that keep us together," said Sharon Greenthal of Empty House Full Mind.
5. You no longer stress about the small stuff.
"You've long stopped worrying about small things like how the toothpaste tube is squeezed or who does what chore or who spent how much on what. You've been through big life stuff together like loss and strife and grief which makes that small stuff seem silly, almost quaint in hindsight," said Lori Lavender Luz of LavenderLuz.
6. You aren't afraid to say anything to each other.
"We tell each other everything, whether it's good or bad. We never hide anything from each other — ever — and can openly discuss any subject without fear of being judged. We made a pact to do that from the beginning of our marriage (it took a little to get used to, but we knew it would be invaluable) and I think it helped to create the wonderful marriage that we have," said Cathy Chester of An Empowered Spirit.
7. You now know how to divide and conquer.
"He takes care of the taxes and the cars. I take care of everything else," said Helene Bludman of Books Is Wonderful.
This article first appeared on Huffington Post 50
7 Signs Your Long-Term Marriage Is Even Stronger Than Ever
was last modified:
April 16th, 2014
by